ASO and ODC are both pleased to announce the organization of the 2nd edition of the Andalucía Rally. This European rally, stage of the FIA ​​Cross Country Rallies World Cup, will take place from May 11 to 15 from Villamartin. And like last year, the bivouac will be set up on the magnificent place of Hacienda El Rosalejo.
After postponement of Portugal Rally, Andalucia Rally will be an opening round of this year's FIA World Cup for Cross-Country Rallies.
May 10 and 11 will be devoted to Shakedown, administrative and technical checks as well as the prologue for all categories. Then 4 days of stages will follow in the typical Andalusian landscapes.
Building on last years' experience, we are working to bring you the best trails the region has to offer, that have also been adapted to the rally raid discipline, with stages from 200 to 300 km per day.
The bivouac will remain at a fixed point during the entire rally at the Hacienda El Rosalejo and each stage will take place in a loop: start and finish at the Hacienda.
  In addition to the few arrows and ribbons distributed along the route, a colored road-book will be given to you. It will be in an electronic roadbook for all Auto FIA competitors.
Each competitor will be equipped with a Smalltrack beacon which will allow us to constantly know the position of all the vehicles and which will allow you to follow the results in real time throughout the stages.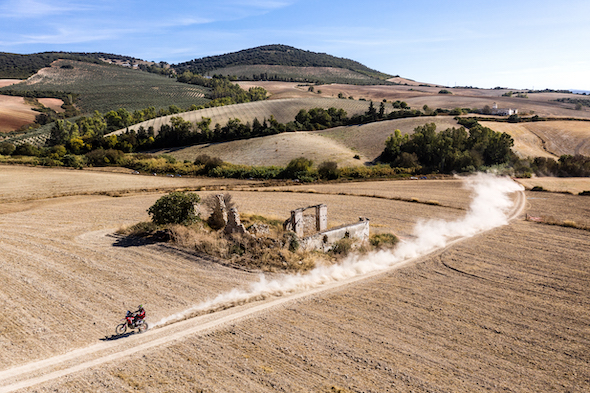 CHALLENGE ROAD TO DAKAR
Qualify for the Dakar: in order to support, train and prepare bike competitors who wish to participate in the Dakar, the Andalucía Rally will be considered under certain conditions as a qualifying race (to see in the next newsletter).
Win your registration for the Dakar: The Road to Dakar challenge, it is open exclusively to pure amateurs who have never taken part in the Dakar, it will give the possibility of winning a free registration for the Dakar 2022 in Moto / Quad and Side by Side (see the regulations very soon).
 The competitors whose objective is to participate in Dakar, must register in the "Road To Dakar" category (CF tab "Road To Dakar Label" to learn about the conditions), and they will be accompanied by a coach who will guide them throughout the duration of the whole rally. 

 

THE CATEGORIES
The categories of this Andalucía Rally are:
AUTO:
- FIA World Cup T1, T2, T3 and T4
- Open: for cars outside FIA ​​and Dakar regulations
BIKE :
- Moto / Quad: for experienced pilots who are used to rally raids.
- Enduro Cup Moto / Quad: for those who are new to rally raid with a bike of a range of 90 km.
SIDE BY SIDE:
- OPEN: for side by side out of FIA and Dakar regulations and with a range of 90 km.

Registrations for the Andalucía Rally will be available from March 1 on rally's website: https://andaluciarallyodc.com/


Source: ODC Events / ASO press release