After many months of enforced inactivity, the bike and quad competitors finally got the chance to turn a wheel in anger over a 9 kilometre super special to decide the start order for tomorrow's first stage. An exercise that is often anecdotal, the nature of the dusty tracks here in Andalusia meant that for once all the top guns charged hard, keen to start as close to the front as possible. Run right next to the rally's hacienda bivouac, victory went to Toby Price (Red Bull KTM Factory Racing), ex aequo with rookie Daniel Sanders (Red Bull KTM Factory Racing) with Yamaha's new recruit Ross Branch (Monster Energy Yamaha Rally) third. And as informed observers of the super special won't have failed to notice, not only are all the factory teams (Monster Energy Honda, Red Bull KTM Factory Racing, Rockstar Energy Husqvarna Factory Racing, GasGas Factory Racing, Sherco TVS Rally, Hero Motorsports Rally, Monster Yamaha Rally) present, many of them have been busy recruiting new talent. The cars will run their super special tomorrow morning before going almost directly into the first stage and rally-raid fans will be pleased to note that the entry is once again top-flight.


The bike team with the biggest change of personnel is undoubtedly the Monster Energy Yamaha Rally Team with the winner of the last Rallye du Maroc, Andrew Short moving over to the French based team. He has been joined by another recent promising arrival on the rally scene, Ross Branch. If factory contracts are nothing new to 'Shorty' they are an unexpected pleasure for his Botswanan teammate. "I'm really excited to be on the race and super happy to be with the team. It is a dream come true for me. On Dakar 2020 I was thinking it was probably my last rally. It was getting really complicated for me as a privateer to keep raising the money, but now that stress has been taken off me and I can just concentrate on the racing. Finishing third on the super special is a good way of starting my 'professional' career."

Rivals KTM also have an exciting new recruit in the form of young Australian Daniel 'Chucky' Sanders. The man from down under astonished the off-road world by coming over to Europe last year and winning the ISDE aboard a 500 and since then has been on a number of team manager's shopping lists. "I've been training with the team for the last 3 weeks and already its been a massive learning curve. The terrain around here looks awesome and I'm really excited to race my first rally. Obviously I've got a lot to learn but if I can pick things up as quickly as Toby (Price) I'll be well happy. I'm really stoked to have finished equal first with him on the super special. Just hope I don't have to open tomorrow!"

It isn't just the factory teams who've been busy recruiting, with top privateer outfit HT Rally also upping their game by bringing aboard none other than experienced rally rider Xavier de Soultrait and three times enduro world champion David Knight. Commented team manager Henk Hellegers, "We're really happy to have the two in our team - they create a really good atmosphere. To bring a legend like David Knight into rally is a real pleasure for us and it is great to give a proven rider like Xavier his next step."

Away from the musical chairs, the big talking point in the bike class is the introduction of air bags. Adapted from those used in MotoGP, they won't actually be compulsory on this event but will be on the next Dakar. To let the competitors try them out, no less than 5 different models are available for competitors to test. Ever since airbags first appeared in road racing, engineers have been looking at ways of adapting them to rally-raid, but the particularities of off-road riding hasn't made the process straight forward. The man in charge of bring it all together is ASO's vastly experienced technical expert Thierry Viadot: "Here in Andalusia all the competitors have the possibility to test airbags that have been approved by the FIM for the next Dakar. These have been adapted for off-road use by incorporating passive security to protect the rider's chest and back, which will inevitably increase body temperature. That however isn't the principle hurdle to overcome. For me the major problem is defining the parameters for when the airbag deploys, as a function of the degree of shock and speed. The only way to accumulate the necessary data is to start using them now and in a few months the algorithms will have made considerable progress. Until that data has been collected and processed it is possible that airbags may deploy when not desired. But we just have to accept that if we want to progress."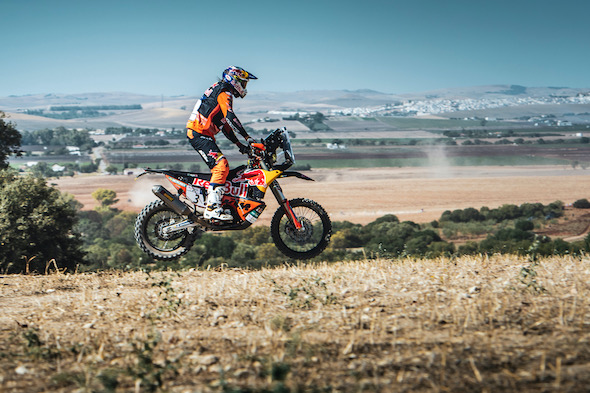 In the cars there have been less changes of personnel. Christian Lavieille and Jean-Pierre Garcin say goodbye to their four years as T2 front runners and have accepted an invitation to drive a Sodicars Racing T1 after the Spanish lady driver Cristina Gutierrez vacated her place to drive a 4-wheel drive X-Raid Mini JCW. The same car that the new pairing of Peterhansel-Boulanger will drive this week. Apparently nothing strategic in the choice, just practical considerations as 'Peter' explains: "There was only one buggy available. Carlos wanted to continue developing it, while my priority is simply to get some kilometres in with my new co-driver Edouard Boulanger. The 4-wheel drive could have an advantage here but that didn't influence my decision." The Russian Denis Krotov will drive the fourth Mini up against the five Hilux. That of Roman Chabot (Overdrive SA) will have the same technical evolutions as his teammates Erik Van Loon, Bernhard Ten Brinke and Yazeed Al Rajhi who is once again reunited with his co-driver Dirk Von Zitzewitz back racing after running out of road in Poland.

The lead drive of the Hilux pick-ups, Nasser Al Attiya (Toyota Gazoo Racing) has clearly decided to race after victory: "it is the first time I have come to Andalusia, the scenery is magnificent and I'm very happy to be here. I would like to thank David Castera for having bought us all together, its like a mini-Dakar! We have a good car. Stephane will also be in a 4-wheel drive and I'm here both to help the team and try to win the race." On his right Matthieu Baumel, like all the co-drivers here, is more concerned about adapting to the use of what they are all now calling 'the tablette', the electronic road book will be standard issue next January in Saudi Arabia: "we are here to get used to it before the Dakar. We have four days racing, which should give us enough time to understand this digital format. We aren't used to having so much information in one place. Before we had the book, the GPS and what we could see outside. Three points. Now there's a lot of information on the tablette with the remote control which we aren't used to. It means we don't have a lot of time to look out and we're going to have to work on that. It is going to be a challenge and that's what we are here for. But I have no doubt regarding the quality of the tablette."

Lucas Cruz, 'El Matador's' co-driver is also keen to try out the new system under race conditions. "It is an additional stress but we have already managed to integrate the colour road book given out ten minutes before the start. We will see whether at speed and with all the movement of the dashboard, onto which the tablette is fixed, if we manage to read the all the information, especially the small letters. Up until now we held the road book and turned the pages by hand which naturally followed the movement of the car. Now it is the head that will have to move. We will see how that works out and if certain co-drivers decide to hold the tablette in their hands. With the cable connected to the GPS, getting in and out of the car, or in case of an accident that doesn't look like the best option."

Over in the lightweight T3 category the big news is the arrival in the Red Bull Off-Road Junior team of the American Seth Quintero, who having turned 18 three weeks ago is now authorised to race, and Swedish rallycross sensation Kevin Hansen. The winner of the 2019 Nitro Rallycross is standing-in for the injured Blade Hildebrand and is clearly looking forward to the challenge: "Red Bull offered me the opportunity to test the car as a stand in for Blade and I said to them that I really wanted to do a rally and I'm super happy to be on one for the first time. I love rally-cross and now I love rally-raid also. They are such different sports, they don't need to cancel each other out and I'd really like to do both because the experience is so different. I think this is a good rally to start with. It seems to be a bit easier than normal with the navigation. I will take it easy and build the experience and go step by step. Up against the young Red Bull team is the experienced French competitor Jean-Luc Pisson aboard his Zephyr PH Sport T3.

In T4 the hot favourites are over in the Monster Energy Can-Am team, comprising of ex-biker Gerard Farres, the young American Austin Jones and the Polish driver Aron Domzala. Commented team manager Scott Abraham: "We have a really solid team, Austin is super quick and really grown in the sport in recent years. The second new addition is Aron, previous T3 world champion, again super quick, really looking forward to see what they'll do, and then there's our 'veteran' driver Gerard who's a really solid competitor with a lot of experience. We're really happy to have the chance to race here, ODC Events have gone out of their way to make us feel comfortable and I'm sure the Audulcίa Rally will give us a whole load of new challenges."

TOMORROW: Stage 1: Everything here in one stage

While the bikes / quads go directly into the Stage 1, the cars will first tackle the super special before starting the stage 2 hours after the last bike. David Castera : "today we will show the competitors pretty much all the types of terrain they will encounter on this rally. There will be some technical going at the start, a bit of sand over 30-40 kms, some more open tracks, alternating with more narrowing piste. Then in the last property crossed, on the final 40 kilometres, it'll be more technical again, with some vegetation.

Source: Andalucia Rally press release