Consistently fast on these Spanish pistes and navigating superbly, overall victory on the Andalucía Rally 2020 went to the Argentinian Kevin Benavides (Monster Energy Honda Rally). Second (at 7'42) was Adrien Van Beveren (Monster Energy Yamaha Rally), a remarkable comeback for the Frenchman after his big Dakar crash. Just seconds behind him in third (at 7'54) was an impressive Spaniard Lorenzo Santolino (Sherco TVS Rally Factory), achieving his first major rally podium. In the cars, the favorite going into this rally didn't disappoint, with Nasser Al Attiyah (Toyota Gazoo Racing) taking a hard earned victory. Much to his surprise, Carlos Sainz (X-Raid Mini JCW) managed to get his 2-wheel drive buggy into second place 3'14 behind the winner, with Yazeed Al Rajhi (Overdrive) third at 10'31.
Holding the overall lead since the start of this Andalucía Rally 2020, Kevin Benavides was the man on form here in Spain, aboard his Monster Energy Honda, and delighted to take this victory in the run up to the Dakar. Commented the Argentinian: "Obviously we haven't been doing a lot of racing since the Dakar but I have been training hard and working with a sports psychologist to maximize my performance. I live near Salta and the tracks there aren't dissimilar to what we discovered here in Andalusia so that helps. I didn't really have a strategy I just took each day at a time. The bike went really well and the team did a great job."

If Kevin Benavides started this morning with a relatively comfortable margin, the same couldn't be said for second placed man overall Adrien Van Beveren (Monster Energy Yamaha Rally). Indeed, at km 152 his challenger for the second step on the podium Lorenzo Santolino (Sherco TVS Rally) was 3 seconds in the virtual lead. Said Adrien at the finish line: "After my crash on the Dakar, for the first time in my career, I wondered if I really wanted to continue racing. I thought about it a lot and in the end I decided to continue for myself, for my personal satisfaction. That's not to say I'm not grateful to my team and my sponsors, but it was an important shift in mentality for me. So, to come back here and prove to myself that I am capable of running at the top of the pack is a grand satisfaction. Many thanks to David Castera and his team for making this race possible."

In third place, taking his first podium racing against the cream of rally-raid riders, was the Spaniard Lorenzo Santolino (Sherco TVS Factory):"Yes super happy to finish third here. Maybe the fact that I am Spanish and we were racing on Spanish soil was good for me but it is nevertheless important for my confidence going into the Dakar. The team has been working hard to develop the bike and it went really well here, so many thanks to them."

Away from the podium there were noteworthy performances from the rookie Australian Daniel Sanders (Red Bull KTM Factory) who showed right from the start that he had the speed, by finishing ex aequo with teammate Toby Price on the Super Special, and that he'd made spectacular progress with the navigation by winning today's last stage, just 7 seconds ahead of his countryman Toby Price. Special mention also to Monster Energy Yamaha Rally's new recruit Ross Branch who won a special and was in the hunt overall until he ran into problems on yesterday's stage. Clearly, he has the right pace and the right attitude to achieve great things.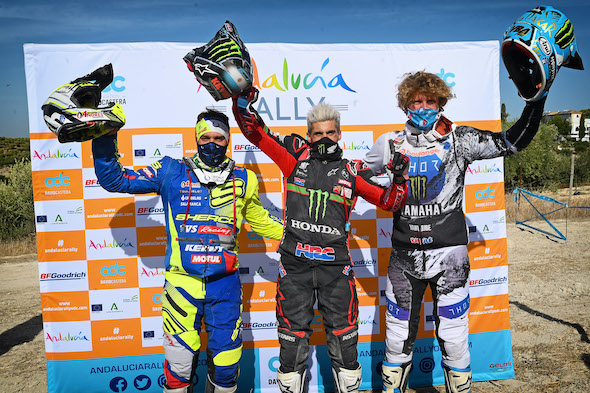 In Rally 2 victory went to multi world enduro champion David Knight (HT Rally) ahead of Czech freestyler Libor Podmol with Camille Chapeliere (KTM Baines Motos) third. Commented the big bloke from the Isle of Man: "The main thing here for me was to finish the race to validate my 2021 Dakar entry, so that's mission accomplished. To win the Rally 2 class is obviously a big bonus. Having done this rally I'm actually looking forward to the Dakar more than before I started it. It's a really interesting sport and you learn something every day. Today for example, over the second part, I calmed down a little and really concentrated on the navigation to avoid any penalties and I actually rode much better. But for sure when I get to Dakar it will be an even bigger learning curve." Finally, in the Road to Dakar challenge victory goes to the Spaniard Tosha Schareina (450 HVA) with David Knight's world enduro championship victories making him ineligible for the category. Tosha also wins the Enduro Cup category ahead of the Frenchman Matthieu Doveze (KTM) and another Spaniard Ruben Saldaña Goñi, also riding a 450 HVA.

In the quads victory goes to Jerôme Connart ahead of fellow Frenchman Alexandre Giroud with the Pole Kamil Wisniewski third.

In the cars, Nasser Al Attiyah (Toyota Gazoo Racing) might have come here to prepare for the next Dakar, but consummate competitor that he is, he also came to win. Job done for the popular driver who adds this first Andalucía Rally 2020 to his already very impressive tally. Al Attiyah: "I'm so happy to win here. Thank you to Toyota Gazoo Racing, thank you to Overdrive, really this was an amazing race for us. Not easy because everybody coming here to win and show that they are ready for the next Dakar. Thanks to the organization, ODC Events for putting on this rally and also to the region, Andalusia. The landscape is so beautiful."

If Nasser Al Attiyah came here with high hopes, his rival Carlos Sainz (Mini X-Raid JCW), by his own admission, really wasn't expecting to achieve much in his 'unsuitably' big 2 wheel drive buggy, that he opted to race so as to continue to develop it for the next Dakar. Sainz: "It was a good decision to come here, even with the 2 wheel drive, to get kilometres in the car. I'm happy with the result. If, before the rally, you asked me if I could take second overall with this car I would reply to you that it would be difficult. Given the time the organisers had to put this race together it was successful and I congratulate everybody involved."

Despite the disappointment of going out of contention for victory after yesterday's 10 minute time penalty, Yazeed Al Rajhi (Overdrive) was happy with his pace on the rally and even happier to be once again reunited with his co-driver Dirk Von Zitzewitz. Al Rajhi: "For sure I'm very happy. We enjoyed it and Dirk did a great job. It is very tricky driving here but we reached our target of having a good rhythm and good speed. Now we have training to get ready for January."

In the T2 class for series 4x4 Akira Miura (Land Cruiser Toyota AutoBody) wins in front of his teammate Ronald Basso with Cristina Giampaoli (4WD Jaton Racing).

In T3 it is Mitch Guthrie (Red Bull Off-Road Junior Team) ahead of his teammate Kevin Hansen with Jean Luc Pisson third (Zephyr PH Sport).

In the SSV T4 class it is Aron Domzala (Monster Energy Can Am) ahead of his teammate Gerard Farrés with the Portuguese driver Rui Carneiro (MMP Can Am T4) third and winner of the Road to Dakar challenge. Aron Domzala: "We were really nervous on the last part. We had a good lead and I think we have a win. In two and a half years in the car with Maciej we did a lot of strong results but this is our first win together, so a special race for us. First time with the Monster Energy Can Am, a great car and a great team – a great combination."


Source: Andalucia Rally press release